The increased requirements and regulations for approval and certification of hoses can be obtained from B.S. Specialhoses A/S.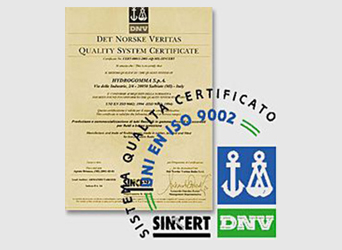 Most well known:
Danish Gas Equipment Test (DG)
Det Norske Veritas (DNV) and Bureau Veritas (BV)
Deutscher Verein des Gas- und Wasserfaches (DVGW)
PED AT743 - CE 97/23/EEC. (VA)
Germanischer Lloyd (GL) og
Lloyd`s Register of shipping (LRS)
PED AT743 - CE 97/23/EEC.
Food Regulations EC 1935/2004.
ATEX certificate
We also offer pressure testing certificates based on customer specific requirements. Stamping and marking as desired - contact us for options.
Registration with the Danish Veterinary and Food Administration
The Food Safety Act requires companies to import or manufacture materials and articles intended for food contact to be registered with the Food Administration.
We were registered with the Food Administration in 2009 and can also deliver industrial sludge solutions for food contact.
The Danish Veterinary and Food Administration will conduct inspection visits on a regular basis to document our own control. A copy of our registration can be obtained here