PTFE HOSES
PTFE hoses are used for many purposes, especially where there are high demands on chemical resistance, pressure and temperature.
The PTFE hoses can be fitted with a wide range of fittings, for example. clamps, threaded, smooth piping etc.
Wavy PTFE teflon tube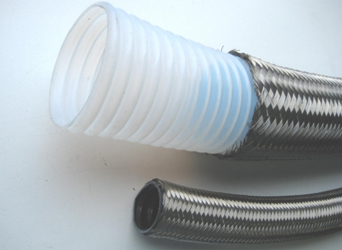 Inside "wavy" (convoluted) PTFE (teflon) bellow hose. Exterior wrap with stainless steel AISI 304 wire.
Properties:
Extremely highly flexible
Wide temperature range
Does not burn, does not develop smoke
Odorless and tasteless
Special design for vacuum can be manufactured
Smooth PTFE teflon tube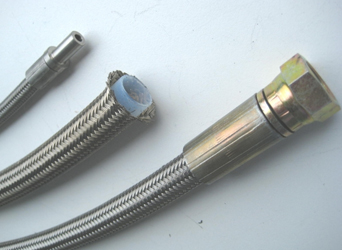 Extruded PTFE Teflon Hose. Woven with stainless steel AISI 304 wire.
Properties:
High chemical resistance
Wide temperature and pressure range
Low coefficient of friction
Dial attachment
Odorless and tasteless
Hyperline FX SS Teflon Lange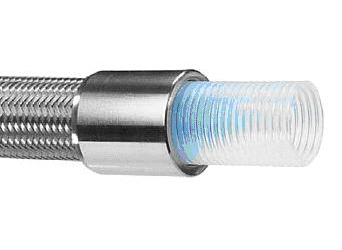 Inside smooth PTFE hose with external corrugation and AISI 304 stainless steel.
Good flow properties due to the smooth inner liner.
Can also be delivered in anti-static version, as well as coatings of eg. PVC, nylon, silicone or EPDM.
PTFE tubing
Smooth milk white / semi-transparent PTFE tubing that is suitable for transporting chemical and aggressive media.
Withstands very high temperature and is UV and ozone resistant